Tote bags are best known for their versatility. You may have different kinds of bags, but tote bags are a must-have if you don't own one. Travelers love tote bags as they are essential for carrying traveling items.
Tote bags are versatile and can serve you for your different purposes. It can help your grocery shopping as well in the office by carrying your bulky laptop. Tote bags are beneficial whether you're going traveling or just running your daily errands in the market.
Tote bags have quite become a trend in the fashion market. You can easily find the best tote bags for your grocery shopping and holding your bags. Tote bags are never out of fashion, and you can toss your essential things easily in them.
You can use tote bags for your daily work, and they'll make you look trendy. You can pick your favorite tote bags from our cute tote bags collection. Use them to go to your gym or grocery shopping and look cool and funky.
Here is the list of some of the best cute tote bags that can make your shopping and traveling more fun.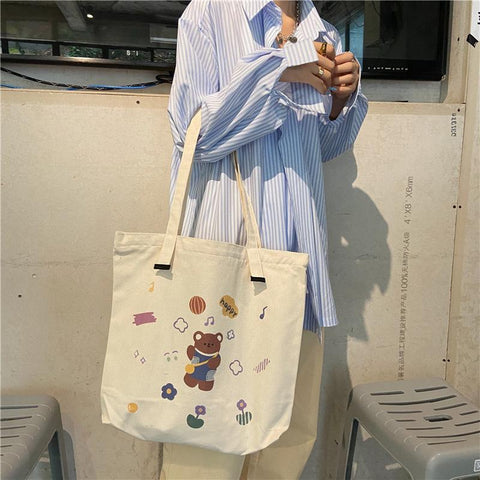 Are you thinking about going on an outing with your friends? Are You Looking for a relaxed and cute bag to put your outing essentials? Don't worry! We have a perfect pick to make your outing fun and memorable.
This Kawai Bear outing tote bag is super cute and perfect for outings and picnics. The tote bag's cloth is simple and has a little bear on it to keep your company anywhere you go.
It is handmade and eco-friendly with a zipper inside to keep your essentials safe. You can easily carry your snacks in this cute kawaii bear tote bag and make your outing perfect and memorable.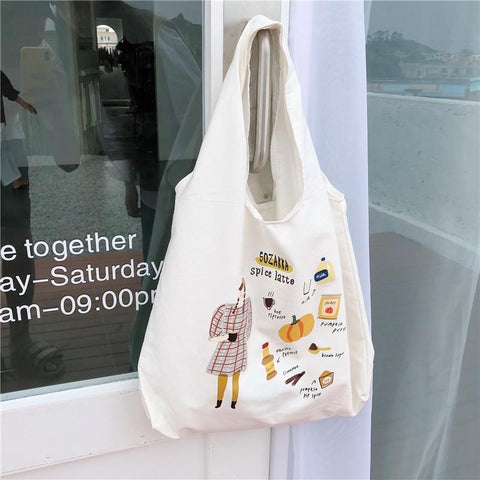 This Casual life canvas tote bag is lightweight and super durable. Its cute funky patterns are perfect for your grocery shopping. Going for a cup of coffee, carry this kawaii everyday life tote bag, and look cool as ever.
It has enough space to carry your regular grocery items. Don't worry if you bought an extra one or two things; the bag will hold them for you. The bag has a large capacity for carrying your items.
It's made of cotton and is straightforward with cute designs that will smoothly go with your daily outfits. Its large capacity helps you carry anything, whether it's your laptop, books, or iPad.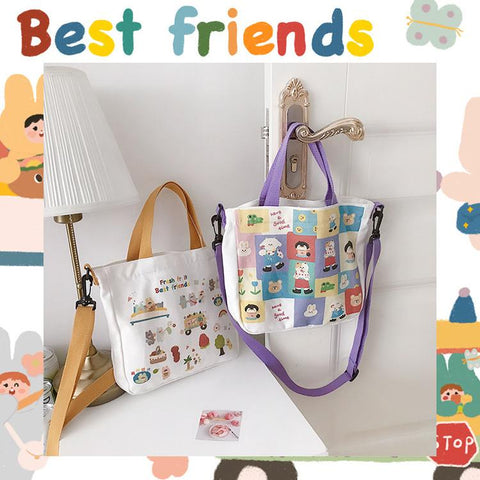 Do you love illustrations as much as we do? If you're a person who loves art and cute images, then you should go for this bag. The bag is filled with different kinds of adorable illustrations and tells a story to its buyer.
This bag is perfect for you if you are a school or college kid. Carry this bag and show your love for illustrations to people. The bag has many cute pictures and comes with a considerable capacity to store all your school essentials.
It comes in various colors, and it's the best option if you're thinking about gift options for Christmas. It also comes with a cross-body shoulder strap, which is super handy and makes it look classier.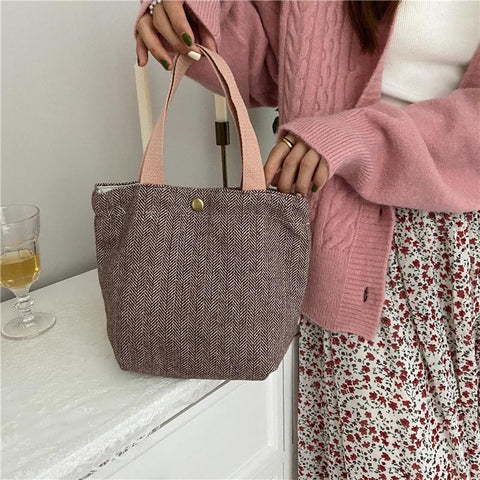 Everyone is aware of the women's never-ending love for handbags. That's why this simple lattice handbag made next on our list.
Christmas is almost here; if you're thinking about giving yourself some pampering, buy this lattice handbag. It comes with a variety of patterns so you can choose what you like.
It's cute and can perfectly go with every outfit. Boys should go to this bag if they are thinking of a Christmas present for their girlfriends. This kawaii simple lattice cute handbag will never disappoint you.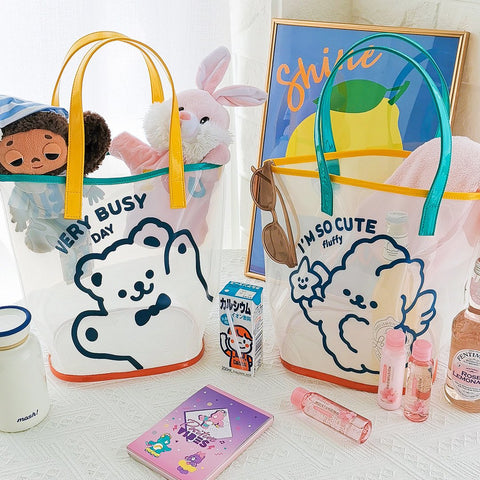 We are calling all the kawaii fans out there because this bag is for you. If you're a true kawaii fan, then this bag should be on your wish list. Kawaii tote bags are famous among their fans because of their durability and cute designs.
We designed this bag with love for all the kawaii fans. It's a one-shoulder bag with a cute bear that has different cute messages for you. The material of the bag is PVC and are perfect for school kids.
You can also use it at your workplace because this bag will make you a cute highlight wherever you go.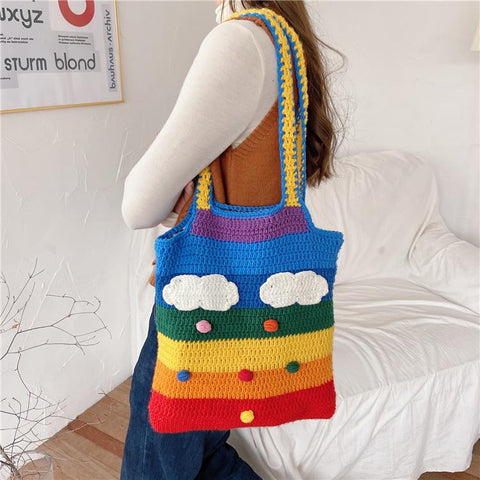 This soft bag is our next pick because this cute tote bag is a perfect mood for your everyday use. Its exciting pattern of clouds and rainbow scenery will make you stand out in a crowd.
The kawaii rainbow cloud tote bag is made of the softest knitted fabric and is handwoven for you with love.
It's also perfect as a school bag as it can easily carry your books and laptop. The bright colors and woolen material is ideal for carrying this winter season.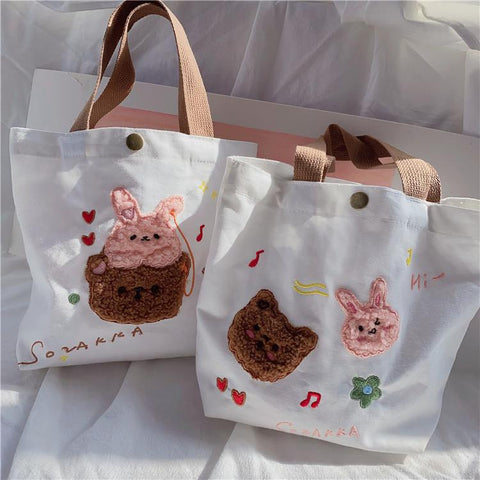 We at ibentoy have everything you need to look good and cute. This bag is for music lovers. You can carry this bag to your evening walk while listening to some music.
This cute bag comes in pure cotton, and the cute bear embroidered designs will make your evening walks more lively and musical.
The bag has a metal conceal that will keep your things protected from falling out. This cute tote bag can perfectly go with your daily outfits.
Conclusion
Tote bags have become basic essential for people who love traveling and outings. We offer a wide range of cute tote bags to make shopping more enjoyable for you.
All the kawaii cute tote bags are handmade with love and perfection. You can choose the bags for your daily use as well as picnics and work. These cute tote bags have all the essential features that you need in your favorite tote bag.