Are you one of those personalities who prefer strawberries? Not just a fruit but also anything that has strawberry in it. Many people love eating strawberries and love collecting strawberry themed accessories.
Our kawaii strawberry theme shop is something you would get obsessed about. The cute strawberry themed things are worth buying and create your collection. From strawberry phone cases to kawaii strawberry socks, we have everything for you.
Moreover, you would be astonished to know that strawberry day is coming on the 27th of February. So, if you're looking for a strawberry theme gift for your loved ones or yourself, we have it all.
You can choose from a wide variety of products from our kawaii strawberry theme store. Our products are also affordable, so don't worry about your budget and shop for anything you want. So, let's celebrate and find the best products from the kawaii strawberry theme store.
Best Products from the Kawaii Strawberry Theme Shop
Our kawaii collection of cute strawberry themed products provides different designs. The products are best to gift to your friends and family as well.
Below is a list of the best products from the kawaii strawberry theme shop: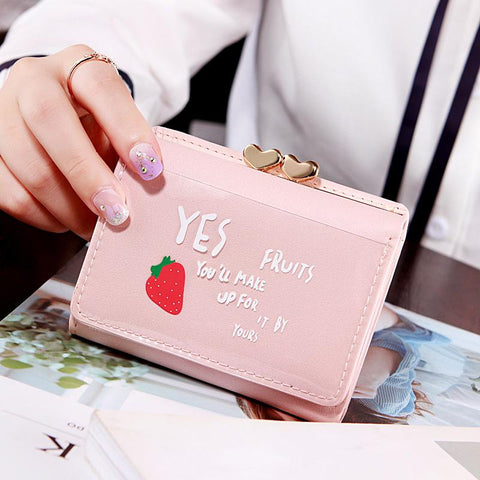 Our first choice is the "I love fruit strawberry theme wallet." Although there are many other fruit theme options in this wallet, we love the strawberry one. This kawaii strawberry theme wallet will please your love for strawberries.
The wallet is super functional; you can keep your money and essential cards safe in the wallet. Your small makeup essentials like lip gloss and mascara can also fit in the wallet.
The quality vegetarian leather of the wallet is durable and has a unique film printing. The size of the wallet is handy, and you can easily carry it wherever you go.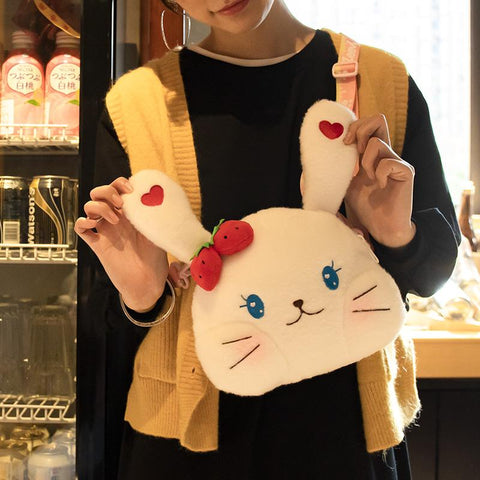 Who doesn't love cute plush bags? Of course, we all do. The soft text of the plush bags and attractive design are all girls look for in a bag. Our strawberry bunny plush bag is for all those bunny lovers as well as strawberry lovers.
The cute plush strawberry bag is suitable for people of all ages. The embroidery design is stunning with soft and durable fabric. Wear this cute strawberry themed bag to your school and flaunt your appealing taste among friends.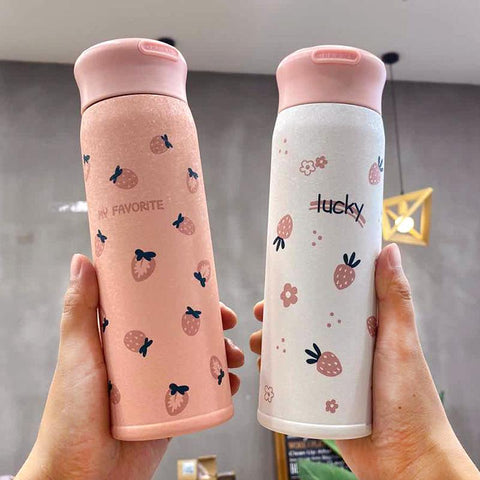 Keep your tea and coffee warm while going to college or work in the cute strawberry thermos cup. The non-slip material of the cup is comfortable on the grip and won't feel heavy to hold.
The 304 stainless steel bottle will help you keep your water warm for up to 12 hours. The bottle can store 420 ml of water but remember not to put the bottle in the microwave.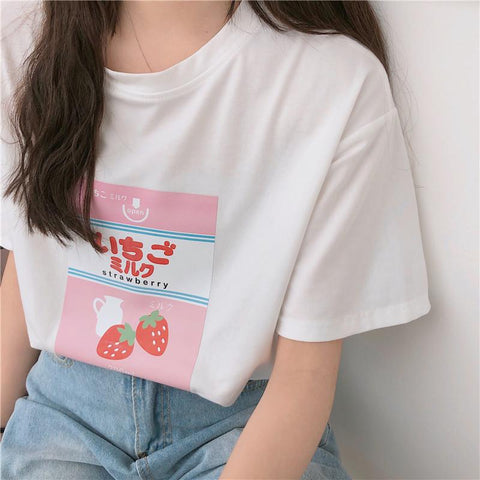 We are calling out all the kawaii girls who love pink strawberry themed shirts. The long sleeve Japanese inspired strawberry tee has a beautiful screen-print on the front side.
The tee's material is soft cotton, which feels light to wear on chilly summer days. You can also pair your tee with long or short pleated skirts; the Harajuku japan street fashion inspires it.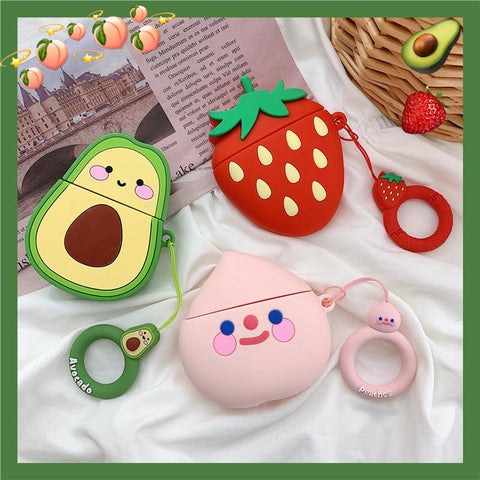 Looking for a cute strawberry themed cases for your air pods 2? Then we got you sorted with our attractive fruits airpods2 cases.
The cute strawberry Airpod cases are perfect for all strawberry themed lovers. The protective case is only suitable for apple's wireless Bluetooth headsets.
Flaunt your iPhone with our strawberry phone case and shine among your friends. The cute strawberry cherry phone will protect your phone while making your life colourful.
The strawberry soft silica gel case is suitable for iPhone 7 to up to iPhone 12 series. The strawberry pattern of the phone case looks adorable in hand and is non-slippery.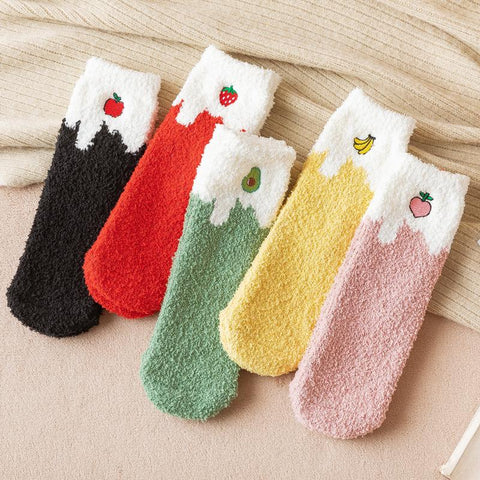 Keep your feet warm with our kawaii strawberry socks in the cold winters. The cute kawaii fashion inspires the bright strawberry themed socks.
Warm, breathable socks are often hard to find, but these socks are perfect. The vibrant design and thicker material of the socks will keep your feet warm even on snowy days.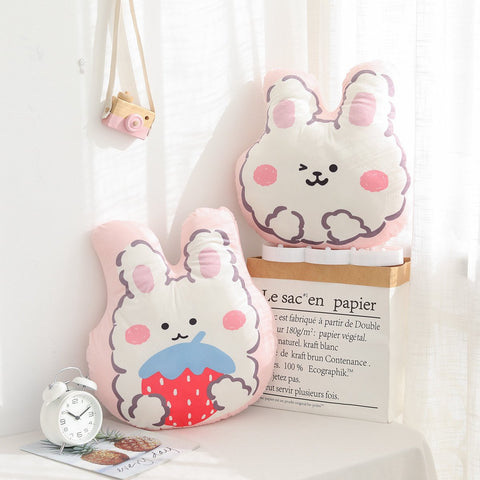 The strawberry rabbit plush pillow will take you to a fairytale dreamland with its cuteness. You can add this pillow to your strawberry themed bedroom.
The pillow has a bunny shape with a cute expression that will defiantly end your tiredness while sleeping. The soft cotton fabric of the pillow feels comfy and soft at your touch. It can be a perfect gift for all the strawberry theme lovers as well as for special occasions.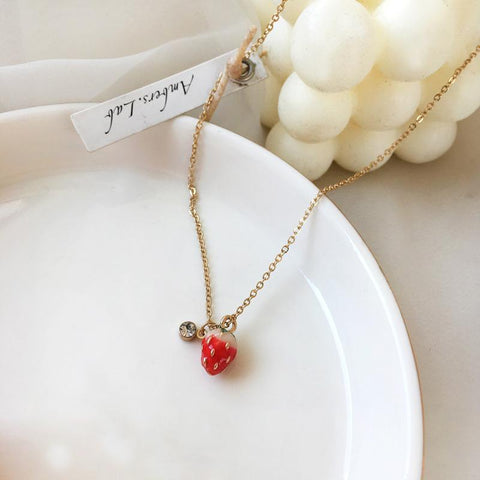 If you're looking for a Valentine's Day gift for your loved ones, then consider buying this cute necklace. The cute strawberry clavicle necklace will add charm to the personality of its owner.
You can wear it with any colourful clothes as it'll compliment your dressing. The sleek strawberry design of the necklace will help you stand out in the crowd.
Conclusion
The products that we mentioned above are some of the most famous strawberry themed items among kawaii lovers. Our store has many themed kawaii products that you can buy to add to your collection.
There are many more strawberry themed products that you could buy from our kawaii store. Also, you can purchase products for your daily use, school, jewelry item and much more.