Everyone loves dogs, adorable puppies, and if you're one of those people, you're at the right place. If you're a fan of soft and cute puppies and anything that has puppy designs, you should check our puppy shop. People from around the globe loves puppy and dogs as a pet and love collecting puppy-themed items.
Our kawaii puppy shop has many extraordinary things for all the puppy lovers. The cute puppy-themed products are worth buying to add to your puppy collection. From puppy-themed bags to clothes to puppy stickers, our store has everything for puppy lovers.
You can select from a variety of goods from our kawaii puppy store. Our store has affordable kawaii puppy products, so don't worry about your budget and shop for your favorite items. So, let's find the best products from the kawaii puppy theme store for the kawaii puppy lovers.
Best Products in the Kawaii Puppy Shop
There is a wide variability of cute kawaii puppy-themed items at our kawaii store. Whether you're looking for clothing items or your daily use stuff, we have everything for you. Our store has many affordable puppy-themed products for all kawaii lovers out there.
Below we jotted down a list of some of the best products in the kawaii puppy shop: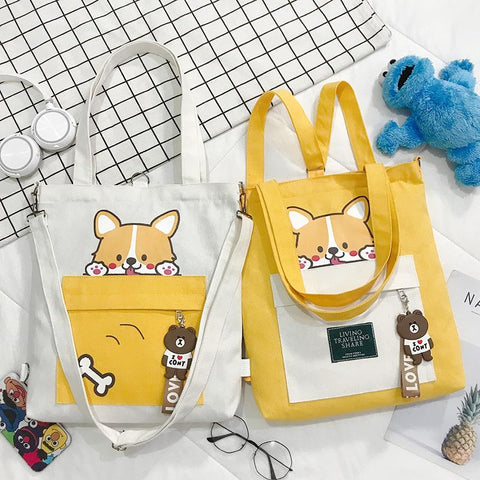 Are you in need of a perfect dog tote bag for you? Then do consider buying this cute kawaii multi-purpose dog tote bag for yourself. The kawaii multi-purpose dog Tote Bag is not only adorable, but it's also practical because of the design.
The dog tote bag is well-made with canvas material and a vibrant design. The bag is suitable for all kawaii students, kawaii office workers, and kawaii girls.
It can store all your valuable things like books, stationery, and clothes.
You can also use this bag for picking up your grocery item. The bag can easily carry your daily grocery essentials. Again, this dog tote bag is a perfect option for giving your loved ones a gift on special occasions.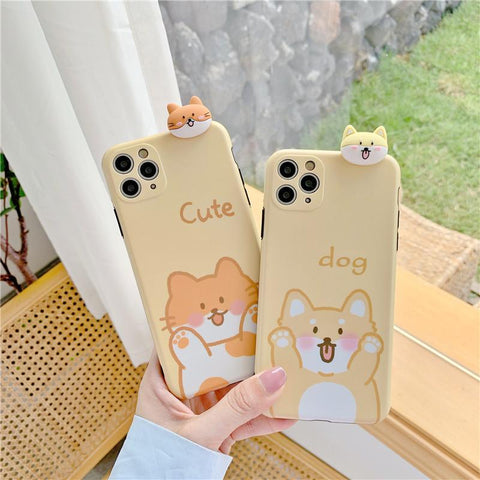 This cute dog phone case has soft silica material, which is comfortable to hold. This attractive dog phone case won't feel bulky in your hand or pocket. The kawaii plush dog phone case is fascinating and adorable. It can protect your phone and make your life colorful.
This design is best for all kawaii lovers as it's very colorful and will spark your personality. The phone case also comes in cat design for all cat lovers. The phone case is durable and will be your companion for a long time.
It comes in two cute colors and adorable designs. The phone case is suitable for iPhone 7/8/SE, iPhone 7P/8P to iPhone 12 pro and pro max.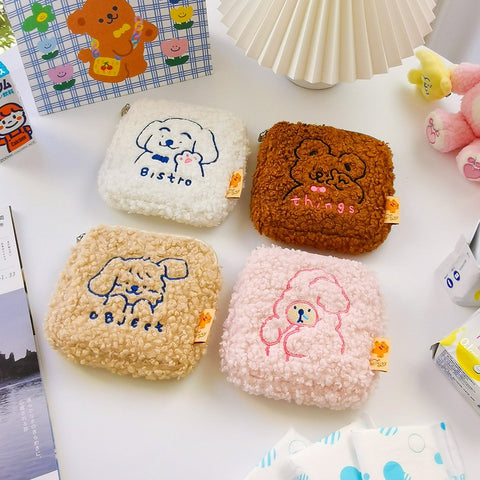 Sanitary pad bags are the best companion for girls in case of need. You can keep your pads with you and use them anywhere you go with the help of pea's eye sanitary pad bag. The bag comes in a cute do design that you can choose to keep your pads.
These kawaii peas' sanitary storage bags can store sanitary supplies and also cosmetics. The bag has soft teddy velvet material and a cute animal embroidery design. The design feels comfortable, and you can easily take it with you anywhere you go.
The cute kawaii sanitary bag has one capacity space and uses a plush zipper to close. You can pick from a broad type of appealing colors like white, pink, beige, and coffee.
If you're looking for a relaxed and cute puppy-themed hoodie, then you should go for a Mini puppy hoodie. This sweet little puppy dog eared hoodie is perfectly soft and cozy to wear. With this hoodie, you'll want to snuggle up on your lazy days at home.
You can also wear this hoodie casually paired with your jeans. The hoodie comes in two styles of Japanese Shiba Inu & Husky, which are too adorable, and you'll fall in love.
The hoodie has quality cotton plush material. It also features a drawstring hood with a realistic puppy. The hoodie also has little 3d puppy dog tail and paw prints on the hands; too cute. The cute kawaii hoodie comes in lovely light brown and light gray color scheme.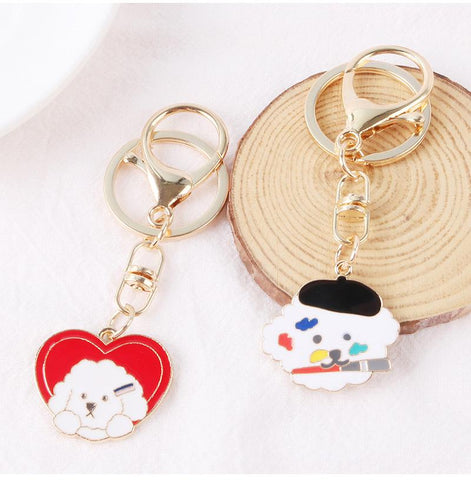 As its name suggests, this key chain is for all the lovely kawaii girls who love puppy-themed items. Whether you're a puppy owner or a person who loves puppy themed items, this keychain is for you. This cute artist dog key chain will reflect the personality of its owner with the design.
All the kawaii lovers who are into do themed items and puppies should buy this key chain. This keychain will show how much you love cute and adorable puppies.
You can use it with your bag, cellphone or to carry your house keys. Add this cute dog style keychain to your keychain collection.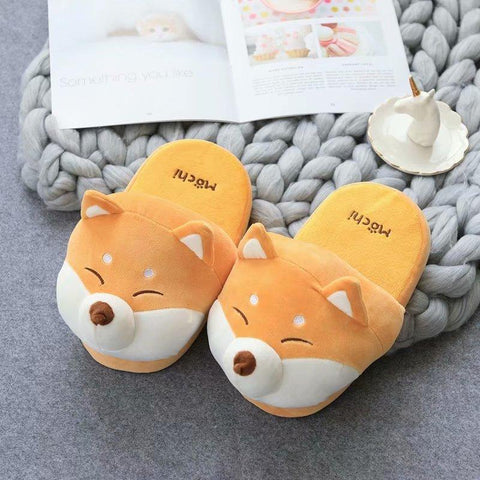 If you're a Shiba Inu or husky dog lover, then these plush slippers are definitely for you. The Cute Kawaii Shiba Inu Plush Slippers are a must-have in the chilly weather to keep your feet cozy. The smooth plush material of the slippers will give you a warm feeling in the wintertime.
The material of the slippers has artificial rabbit fur that gives them a soft plushy touch. The thick sole design of the slippers will feel comfortable on the feet and are super durable.
There are two beautiful colors for you to choose to make your feet look trendy and cute. You can use them as home slippers, and you can also go grocery shopping wearing these slippers.
Conclusion
There are many more products based on the puppy theme you can buy from our kawaii puppy shop. Our products are perfectly designed for all the kawaii people who love puppy items. You can check the items that best suit your personality and your needs.