Are you one of those people who cherish cute bunnies? Not just as soft plushy bunnies also anything that has bunny designs in it. People from around the globe loves bunny as a pet and collecting bunny-themed items.
Our kawaii bunny store has many amazing things for all the bunny lovers. The cute bunny-themed products are worth buying to add to your bunny collection. From bunny bags to clothes to cute stickers, our store has everything for bunny lovers.
You can select from a variety of goods from our kawaii bunny store. Our store has cheap kawaii bunny products, so don't worry about your budget and shop for anything. So, let's find the best products from the kawaii bunny theme store for you.
Best Products in the Kawaii Bunny Shop
There is a wide variety of cute kawaii bunny-themed items at our kawaii store. Whether you're looking for clothing items or your daily use items, we have everything for you. Our store has many affordable bunny-themed products for all the kawaii lovers out there.
Below we jotted down a list of some of the best products in the kawaii bunny shop: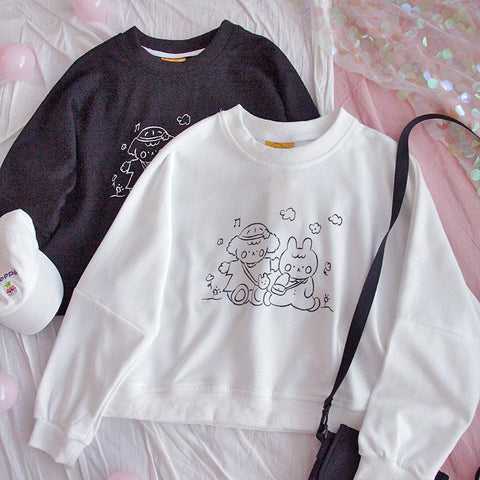 Are you a love of cute kawaii bunny clothes? Then you're at the right place. Our bunny spring outing pullover is one of the coolest shirts that you can add to your wardrobe. Whether you're thinking about going on an outing or a party with your friends, this cute shirt is the best option.
The simplest bunny-themed shirts have kawaii touch because of the printing. The shirt comes in two colors, and it will easily match all your clothes, jeans and skirts.
The cotton material of the kawaii pullover feels soft on the skin. You can wear it anywhere you go to look cooler and stylish.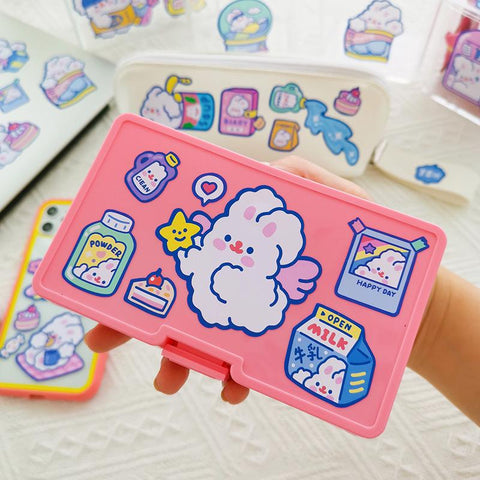 Are you a journaling lover and looking for bunny stickers to decorate your journal? Look no further because we have cute fluffy rabbit stickers for you to use for decoration.
The cute and adorable fluffy rabbit stickers will help you decorate your room as well. Every bunny will make your life fun and bring you back to your childhood. After you use this rabbit sticker, you won't be able to trace it off easily.
You can use them to cover up your computer, desktop, notebook and make your life interesting. You can also gift these cute bunny stickers to your bunny lover friends.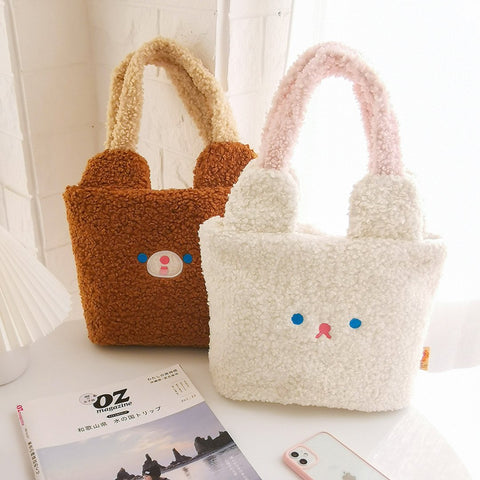 Are you in need of a kawaii bunny bag? Then do consider buying our rabbit tote bag. This cute rabbit bag has a lot to offer with its design and versatility.
These kawaii vertical eared rabbit tote bags can make your winter cute and warm. It can safely store notebooks, books, cosmetics, and much more. The tote bag has soft artificial lamb hair, small animals' eyes and mouths are embroidered.
The bag's handle is also made up of plush and has a plush zipper, which is very comfortable to use. The bag has two different adorable designs and comes in different colors.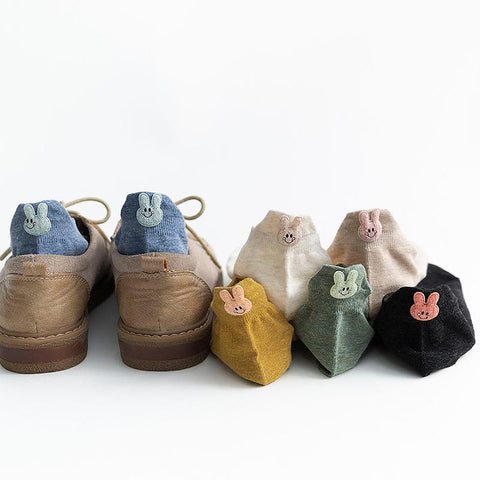 Keep your feet warm with the cute range of kawaii rabbit short socks. These kawaii rabbit short socks have cotton material, which is comfortable and breathable. The socks come in a lot of different colors.
You can match these short rabbit socks with any clothing include sneakers and jeans. The socks' soft cotton material will keep your feet warm and cozy even in the coldest weather.
The cute kawaii rabbit short socks will add a charm to your personality. These cute socks will be your companion on lazy weekends as well.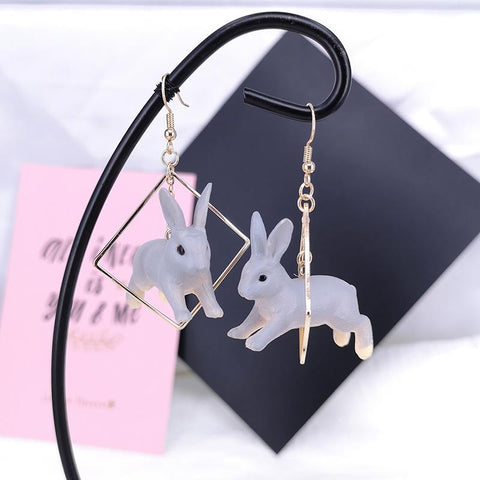 Every girl loves to wear cute earrings, and this jumping bunny earring is for all the kawaii girls. This bunny earring will make you look more stylish and will compliment your clothing. The cute earring will make you get noticed everywhere you go.
These adorable little jumping bunny hoop earrings are too sweet for words. The earring features a sweet white bunny jumping through a square hoop. The lovely dangle style earring will make you fall in love with it.
These kawaii earrings are a must for any baby bun cutie. You can also gift these cute earrings to your friends on special occasions like birthdays etc.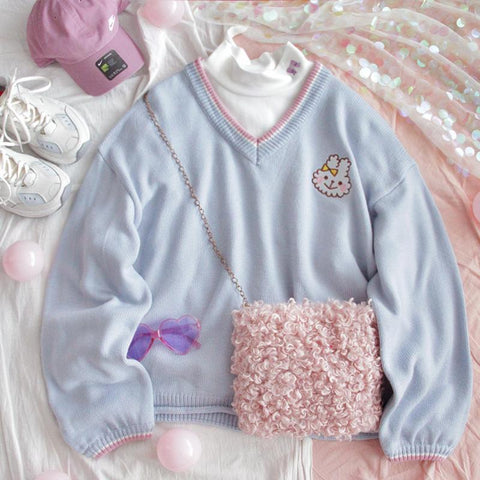 This Rabbit Blue V-neck sweater is not just a sweater; it's much more because of its cool V-neck design. The sweater will go best with your baggy pants and jeans perfectly. The sweater style is free and does not pick your form; V-neck can be worn alone or with a round neck lapel.
It can warm your whole autumn and winter, and the cute sweater can match all the bottoms perfectly. This sweater's thick wool is also solid, and the color or material won't get spoiled quickly.
The bunny embroidery of this sweater is perfect for all the kawaii fans. The particularity of sweaters is that you should wash them gently and don't dry them. The sweater can deform, so let it dry naturally.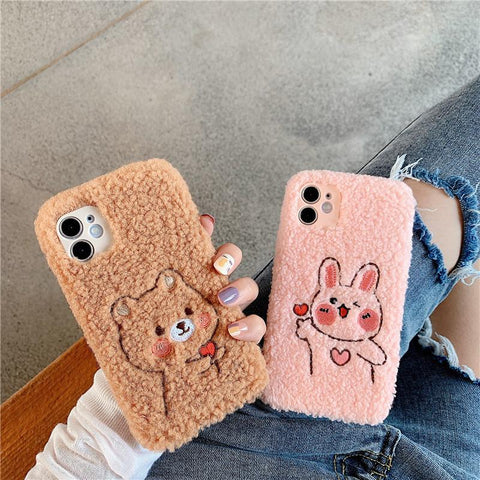 This cute love bear phone case has soft silica material, which is comfortable to hold. This cute bear phone case won't feel bulky in your hand or pocket. The kawaii plush love bear, apple phone case, is very interesting; it can protect your phone and make your life colorful.
This design is best for all kawaii lovers as it's very colorful and will spark your personality. The phone case is durable and will be your companion for a long time.
It comes in two cute colors and adorable designs. The phone case is suitable for iPhone 7/8/SE, iPhone 7P/8P to iPhone 12 pro and pro max.
Conclusion
There are many more products based on the bunny theme that you can buy from our kawaii store. You can check the products that suit your personality and your needs.