Just like breakfast is vital to have a refreshing start of the day, in the same way, any revitalizing drink is essential to wake oneself up. We feel sleepy in the morning, so we need tea to feel re-energizing. And after a morning walk or some exercise, fresh fruit juice is necessary to balance calories. And for all that, we need specialized breakfast cups for tea, milk, or juices. We choose one according to our need to follow the same quantity of liquid every morning strictly. We get attached to our breakfast mugs as they become a part of our routine. The breakfast mug should be durable and safe to use. Kawaii mugs are preferred for kids and adults as they are adorable and long-lasting depending on the material used.
Kawaii mugs available in our store are made of ceramic or BPA-free plastic. As you know, BPA is hazardous for health as it can damage immune, reproductive, or neuro systems. They are safe to use and are pretty durable. They are available in different sizes so that you can select one for yourself. You can buy specialized breakfast kawaii mugs for juices or morning tea. The designs are so adorable withing reasonable prices.
Have a look at our best breakfast mugs range to select the best one for yourself: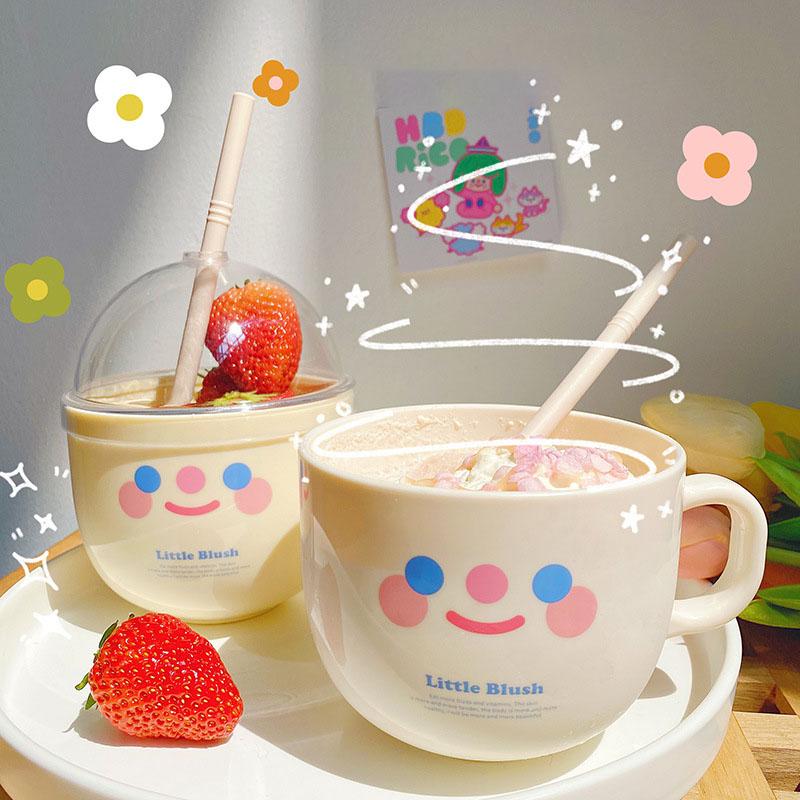 These cute breakfast cups are so adorable with kawaii smiles on them. It has three colors like beige, pink, and yellow. It is spacious enough to accommodate 500ml of liquid. They are BPA-free, so you can use them without worrying about their side effects. These breakfast mugs are not safe to use in microwave ovens.
These cups have transparent lids to save them from environmental dust. It also has a straw and a spoon to stir. The cute tiny designs don't get fade. These portable breakfast cups are offered at highly affordable prices.
Long nectar breakfast mugs
These mugs are specially designed with straws and caps. They are BPA-free, and you can quickly pour enough amount of milk and juice into them. To start your day with refreshing juice and energizing shakes or milk in these kawaii mugs feels like a treat. They are durable mugs at a meager price. They are not supposed to use in microwaves. These easy-to-carry mugs are washable, and their paints won't get fade with time.
Insulated thermos breakfast mugs
Insulated thermos are significant in kitchen items. We need it for food and beverages as they hold the actual temperature of food or liquids. We have insulating breakfast mugs that save the temperature of the tea, shakes, coffee, etc. they are BPA safe and can't be used in ovens. Their prices are highly efficient and can be used for a long time.
Conclusion
Kawaii breakfast mugs are offered in a vast range on our website. You can pick your favorite color and size in the preferred material. The prices for these adorable mugs are pretty reasonable. So go and order your favorite kawaii breakfast mugs now.