💗Well-made, with demin material, and a vibrant design! Large capacity, can store stationery, water glasses, umbrellas, clothes and some personal belongings
💗Suitable for students, Harajuku, kawaii, casual ,office and other styles
💗Denim fabric
💗Can put down a 14-inch computer
💗Zipper closure
💗Bag Size :38*27*9.5CM
💗Shoulder strap length :60CM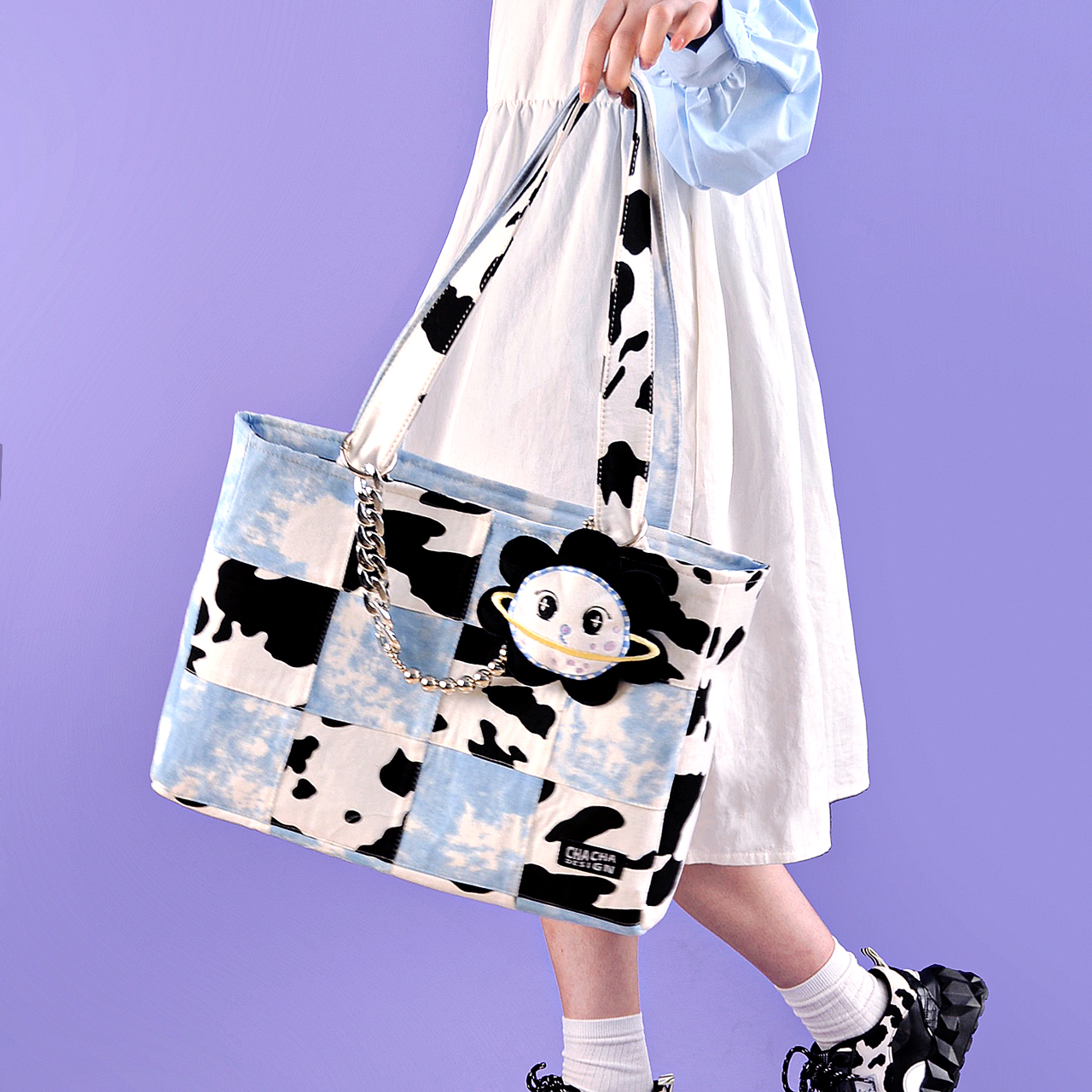 💗Well-made, with snake PU soft leather material, and a vibrant design! Large capacity, can store stationery, water glasses, umbrellas, clothes and some personal belongings
💗Suitable for students, Harajuku, kawaii, casual ,office and other styles
💗TPU transparent material,Snake PU Soft Leather
💗Magnetic buckle,with a hidden pocket inside
💗Bag Size :31*37*8CM
💗Shoulder strap length :60CM
💗Acrylic with heart chain length :65CM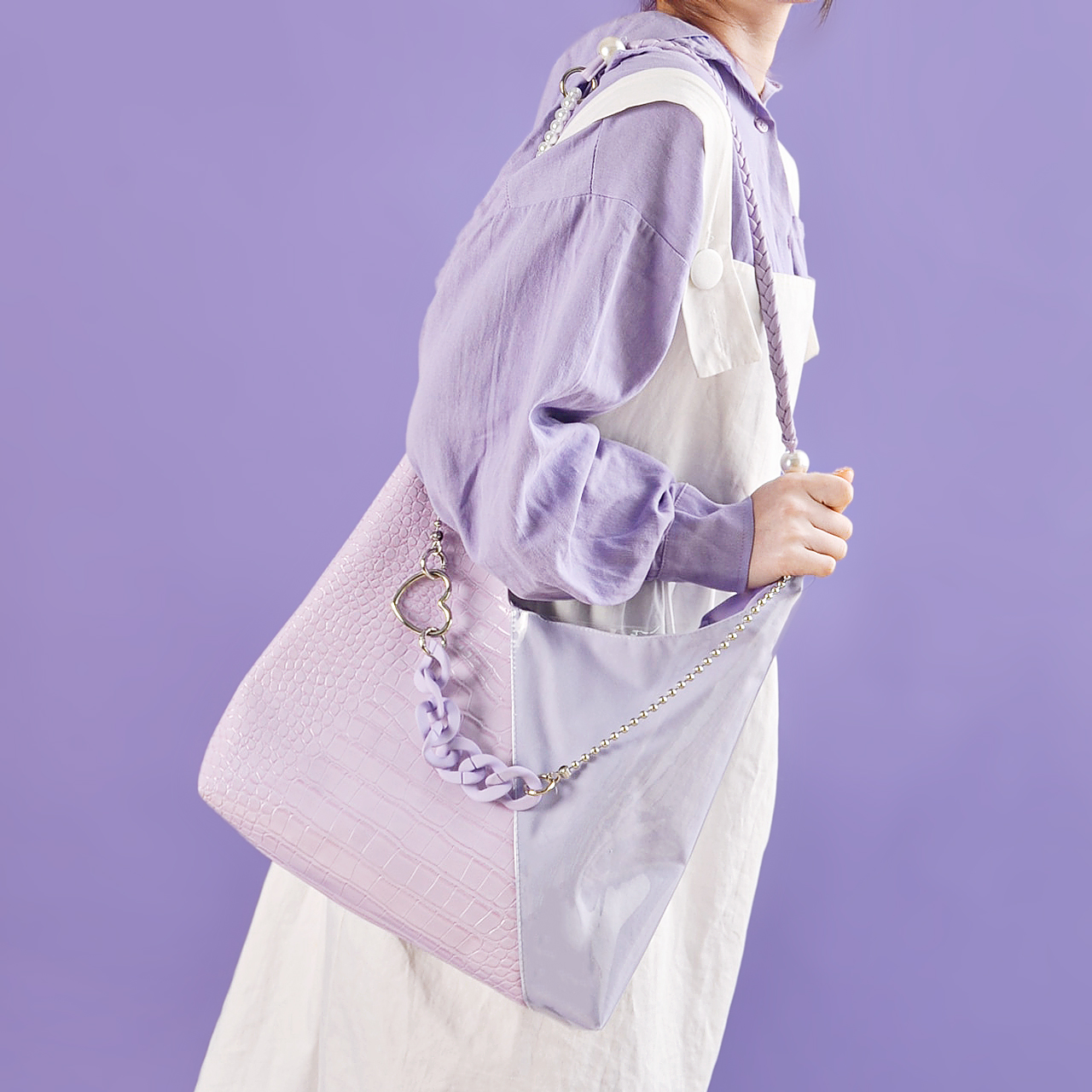 💗Well-made, with jacquard fabric material, and a vibrant design! Large capacity, can store stationery, water glasses, umbrellas, clothes and some personal belongings
💗Suitable for students, Harajuku, kawaii, casual ,office and other styles
💗Premium textured PU leather,jacquard fabric
💗Zipper closure,internal compartment pocket
💗The flower decoration can be removed
💗The pearl surface will be slightly scratched during shipping.
Those who mind, consider before buying
💗The bow part is made of black jacquard fabric. super texture
💗Bag Size :21*11*3CM
💗Normal Pear Chain shoulder strap length :110CM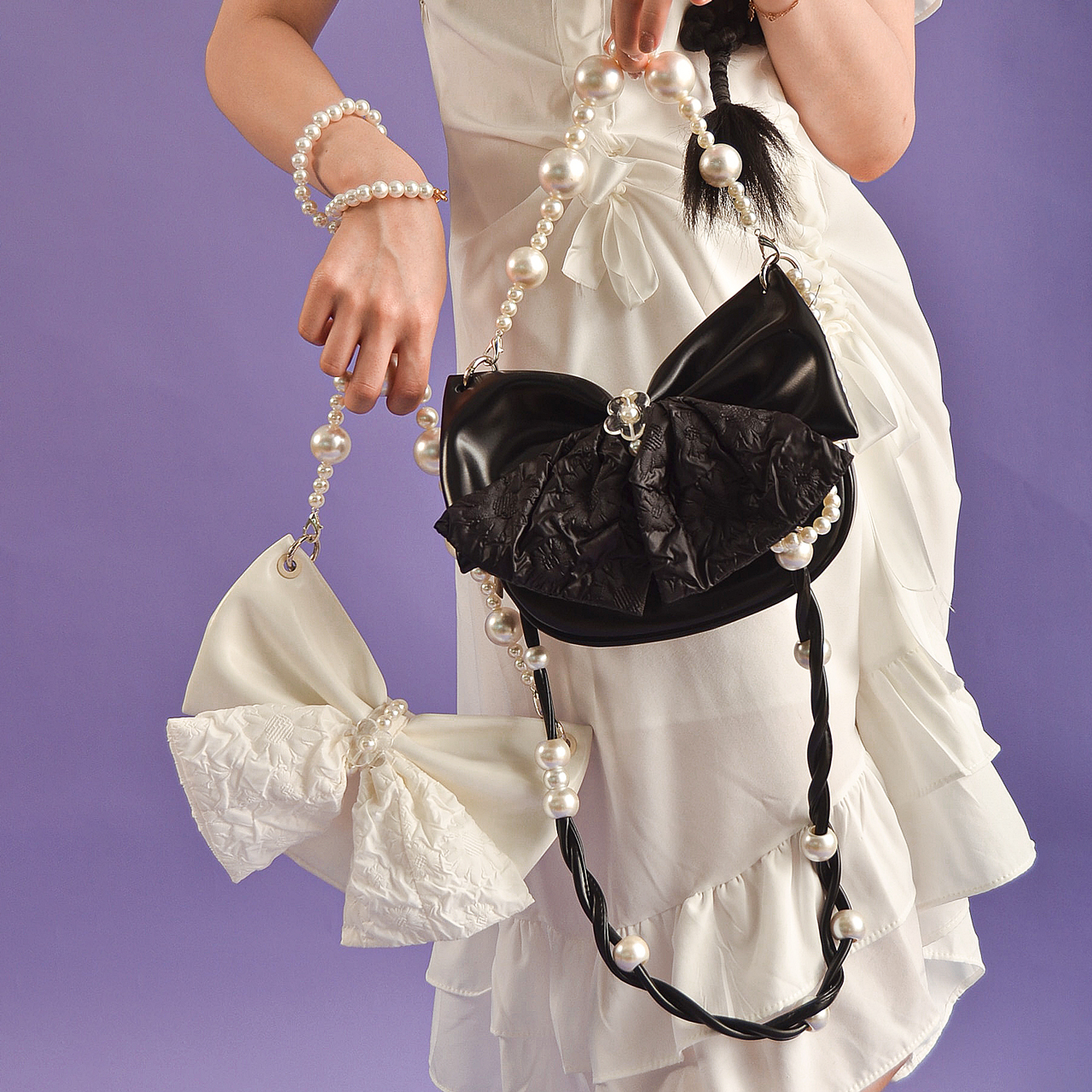 💗These Cute Milk Blue Cloud Bags are not only cute but also practical.
💗Well-made, with plush material, and a vibrant design! Large capacity, can store stationery, water glasses, umbrellas, clothes and some personal belongings
💗Suitable for students, Harajuku, kawaii, casual ,office and other styles
💗Bag Size :42*30*2CM
💗Magnetic buckle design
💗Planet Pendant Size :10CM*2CM
💗Raindrop beads, corduroy shoulder straps, and planet pendants are all removable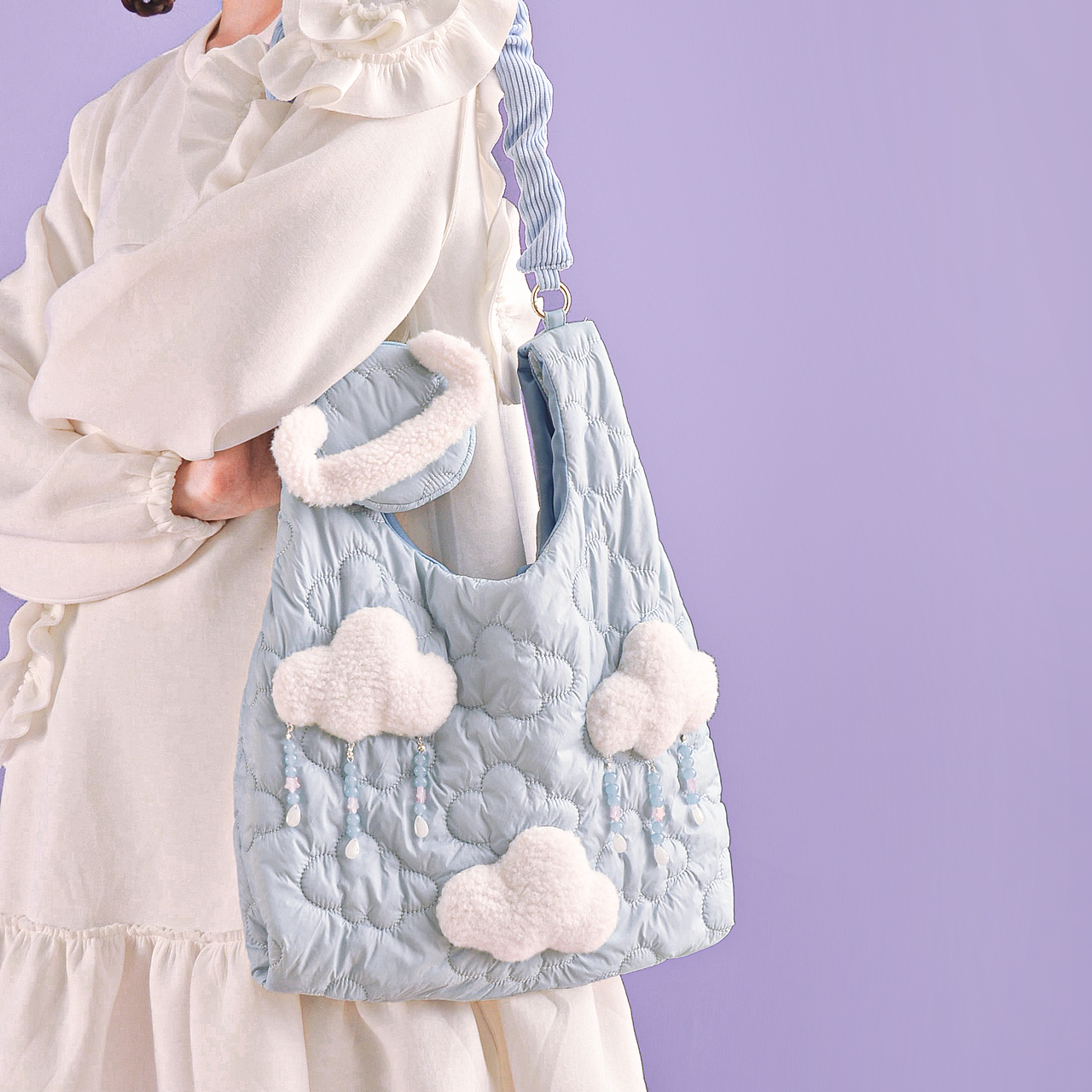 💗Well-made, with plush material, and a vibrant design! Large capacity can store stationery, water glasses, umbrellas, clothes, and some personal belongings
💗Suitable for students, Harajuku, kawaii, casual , office and other styles
💗Plush material
💗Zipper closure, internal compartment pocket
💗The pearl surface will be slightly scratched during shipping.
If your mind, please consider before buying.
💗Bag Size:29*15CM
💗Candy Pendant Size:13*6CM
💗Normal Pear Chain shoulder strap length:110CM
💗Candy Chain length:90CM
💗Small candy can be detached and hung somewhere else as a hanging ornament.
💗Pins color matching randomly, one heart and one star.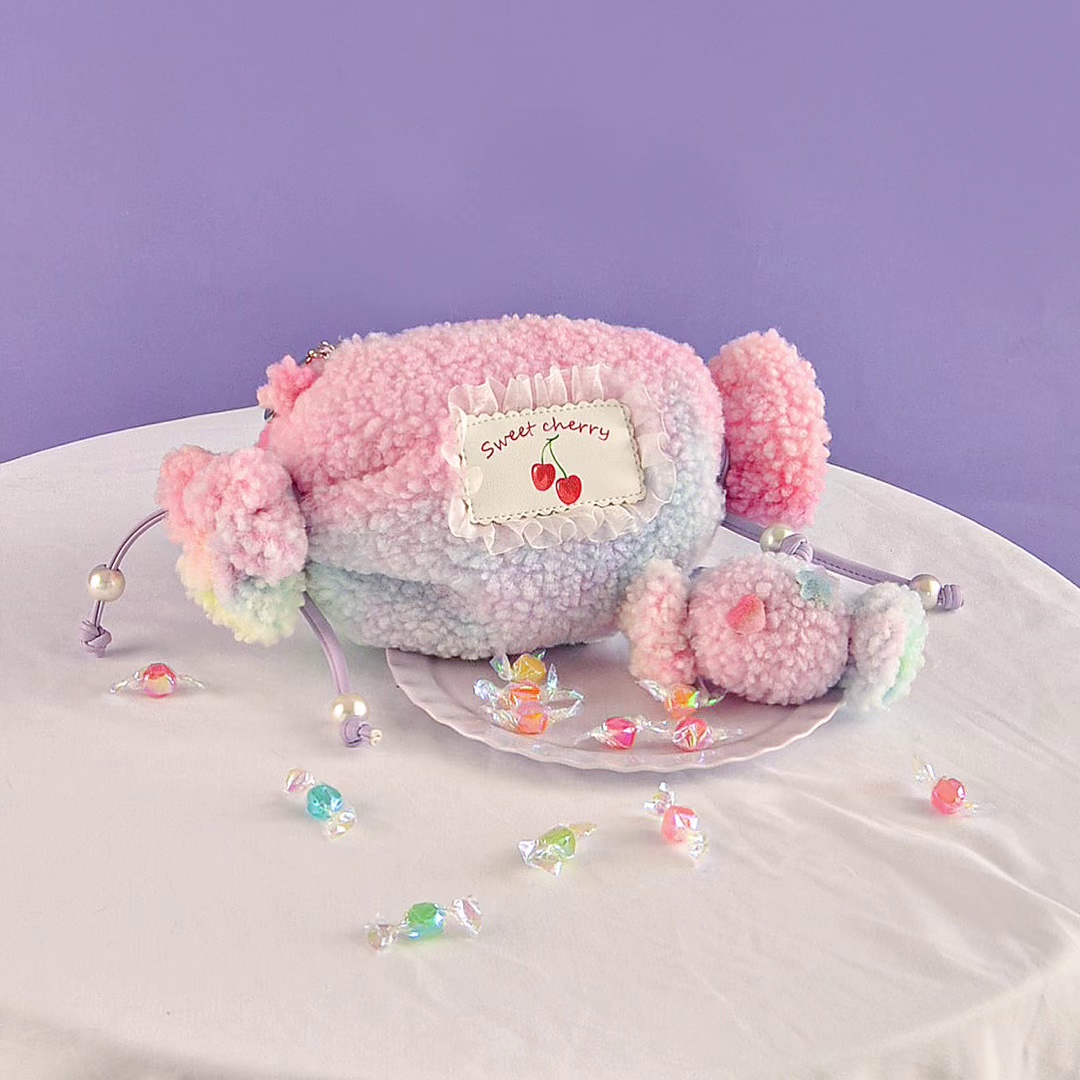 💗These Cute Rainbow Plush Messenger Bag not only cute but also practical.
💗Well-made, with plush material, and a vibrant design! Large capacity, can store books, stationery, water glasses, umbrellas, clothes and some personal belongings
💗Hand Braided Acrylic Chain,Zipper closure
💗Spliced lamb velvet macaron rainbow color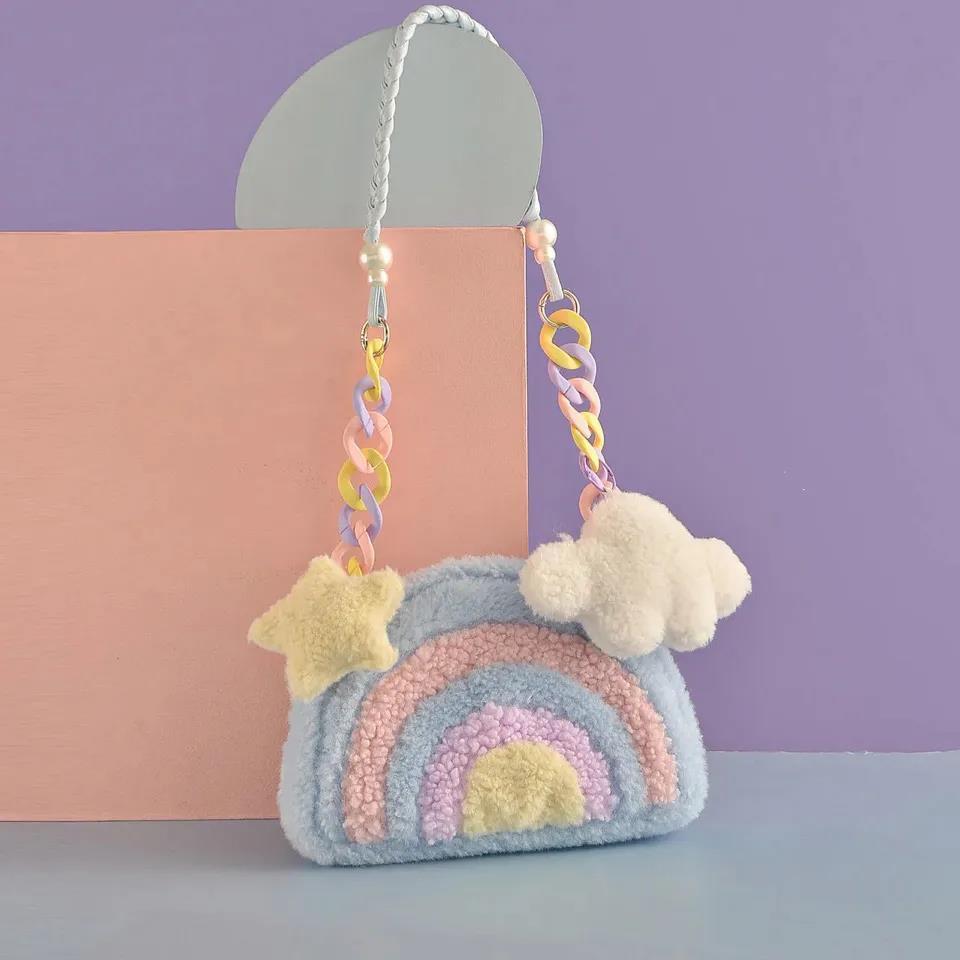 💗The Cute Cow Pattern Flower Canvas Bag is not only cute but also practical.
💗Well-made, with canvas material, and a vibrant design! Large capacity, can store stationery, water glasses, umbrellas, clothes and some personal belongings
💗Suitable for students, Harajuku, kawaii, casual ,office and other styles
💗Canvas fabric
💗Magnetic buckle,with a hidden pocket inside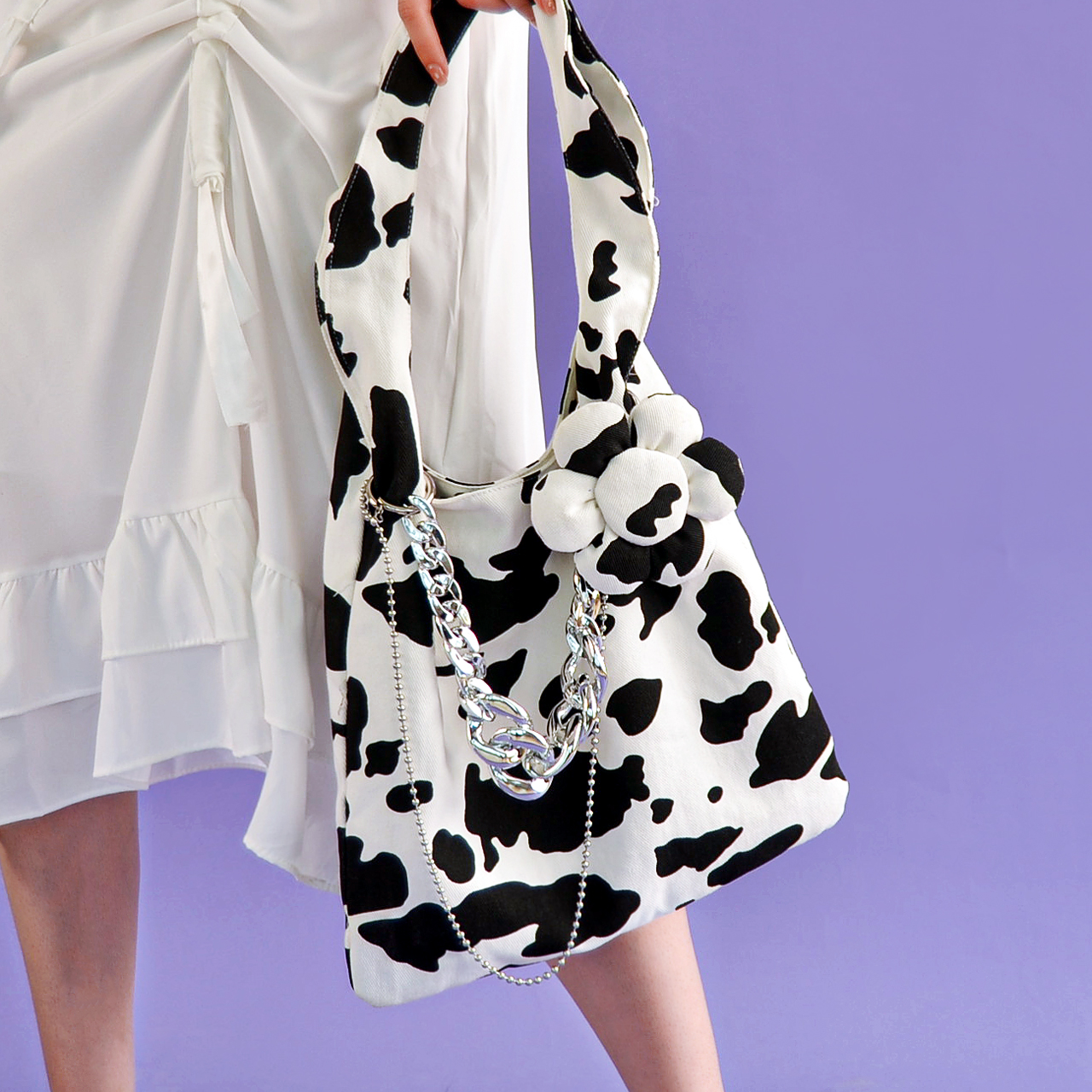 💗The Cute Cow Pattern Panel Armpit Bag is not only cute but also practical.
💗Well-made, with demin material, and a vibrant design! Large capacity, can store stationery, water glasses, umbrellas, ipad and some personal belongings
💗Suitable for students, Harajuku, kawaii, casual ,office and other styles
💗Denim fabric
💗Zipper closure,with a hidden pocket inside
💗There is an additional 110cm silver pearl chain(no picture)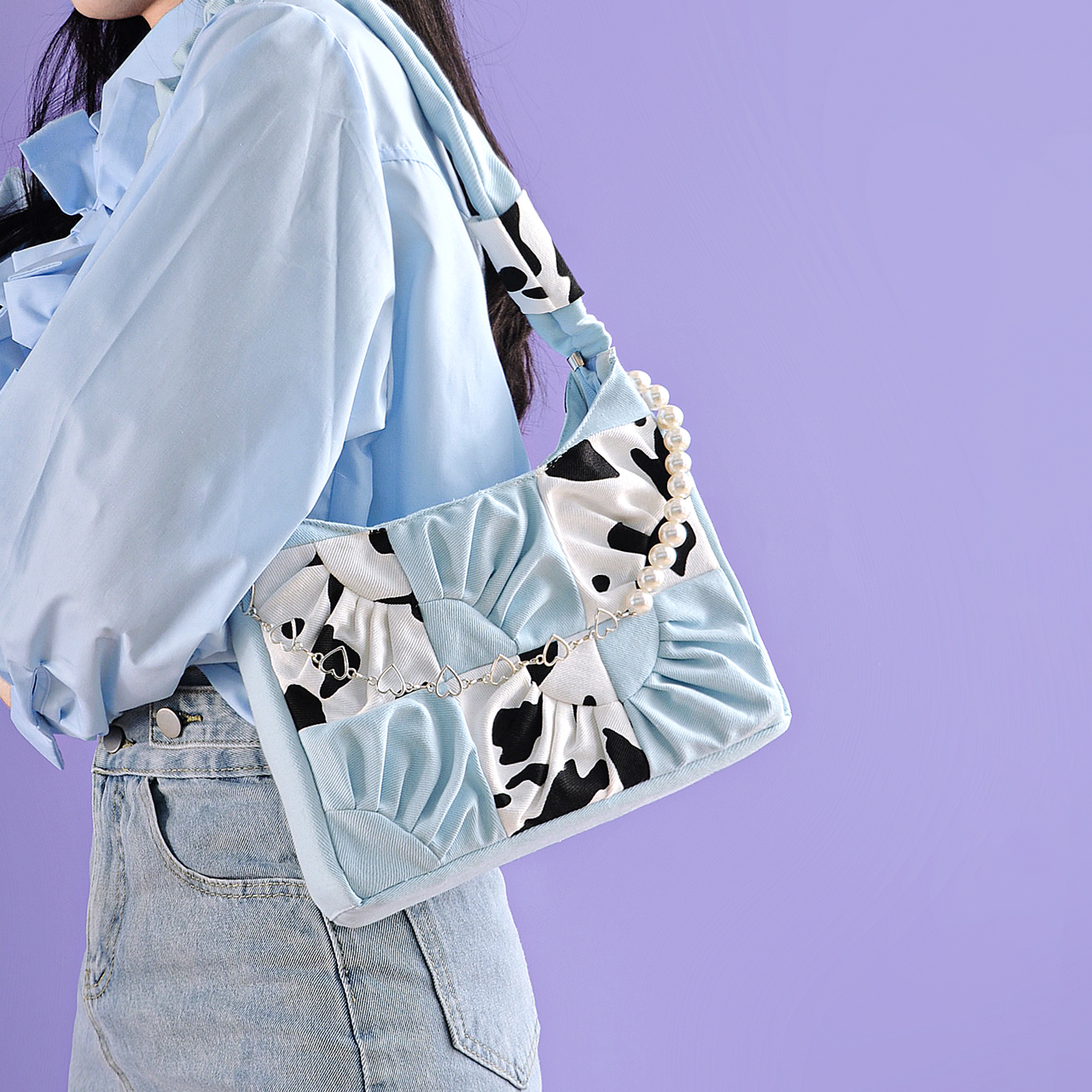 💗The Cute Rainbow Cloud TPU Canvas Bag is not only cute but also practical.
💗Well-made, with canvas material, and a vibrant design! Large capacity, can store stationery, water glasses, umbrellas, clothes and some personal belongings
💗Suitable for students, Harajuku, kawaii, casual ,office and other styles
💗Canvas,TPU transparent material,Macaron colored fabric
💗Zipper closure,with a hidden pocket inside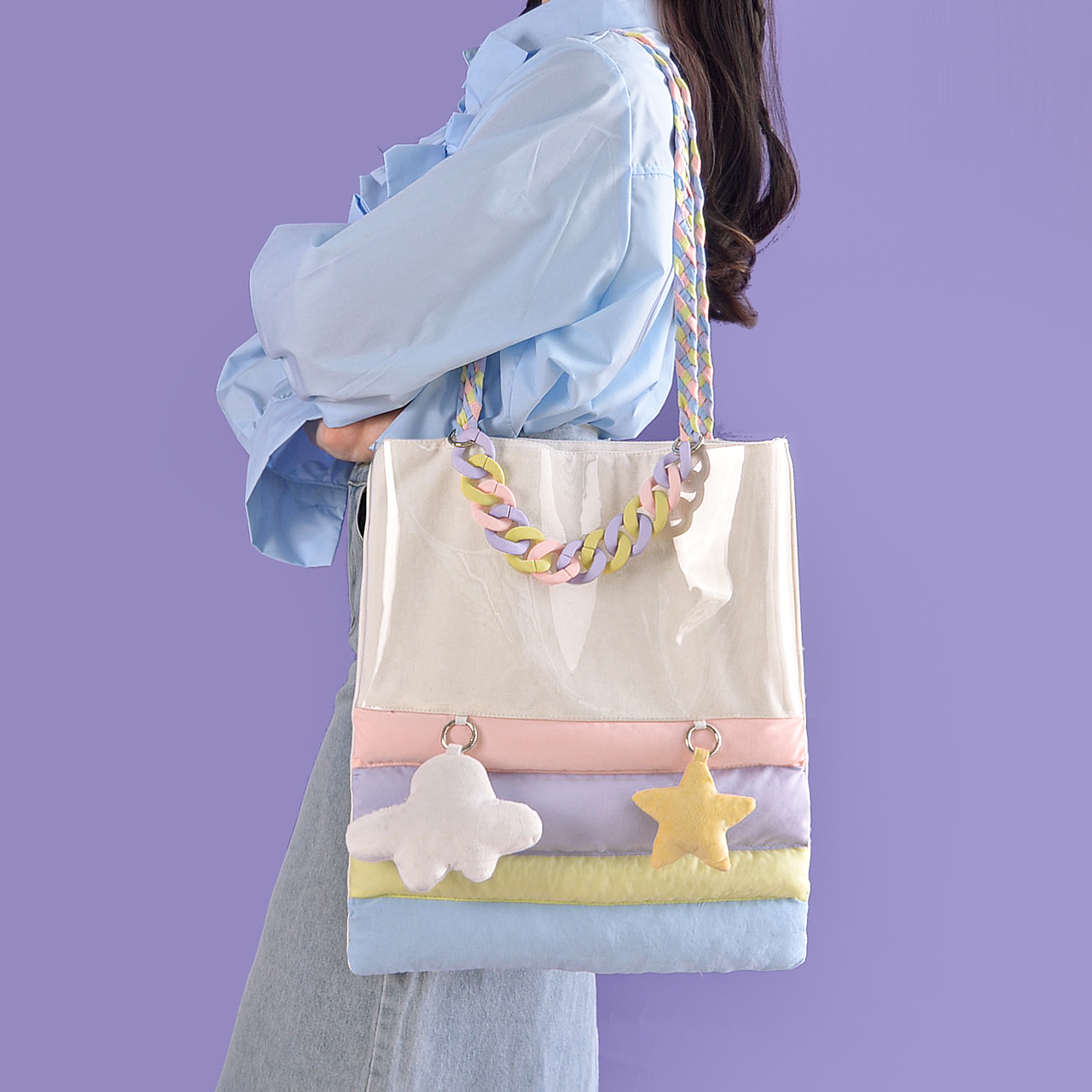 💗These Cute Plush Purple Plaid Underarm Bag not only cute but also practical.
💗Well-made, with PU material, and a vibrant design! Large capacity, can store stationery, water glasses, umbrellas, clothes and some personal belongings
💗Suitable for students, Harajuku, kawaii, casual ,office and other styles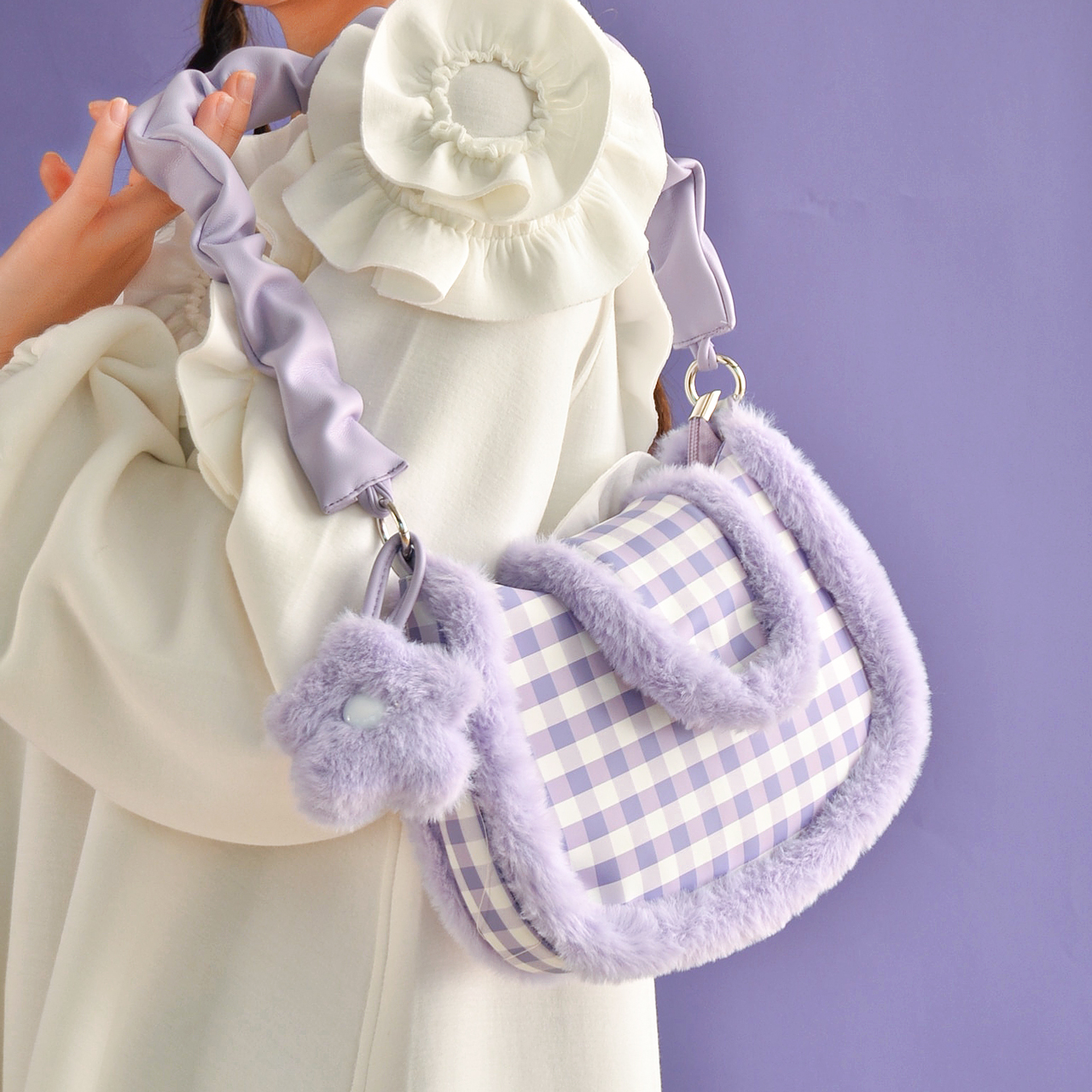 More styles coming soon