A soft pillow is essential for a restful sleep at night but finding a comfortable pillow is hard. There are so many options in the market when it comes to soft cushions. It would be best if you bought a pillow depending on your sleeping needs and sleeping position.
Many people love buying pillows that are cute and have plushy material. Our kawaii pillow shop has many cute pillows that you can buy for yourself. You can also gift our adorable range of soft plushy pillows to your loved ones on different occasions.
Always choose a pillow that is best suited to your sleeping position. It's essential to have your head that neck aligned so you have a good night's sleep. People love buying soft kawaii pillows because of their designs and soft material. Read on to know some of the best cute kawaii
Pillows from our kawaii pillow shop.
Top Soft Kawaii Fuzzy Pillows
Our kawaii fuzzy pillows will be your sleeping companion and will give you a sound sleep. Also, our cute designed pillows will make your room aesthetic and beautiful. You can buy our cute pillows to create your themed room.
Below is a list of the top soft kawaii fuzzy pillows: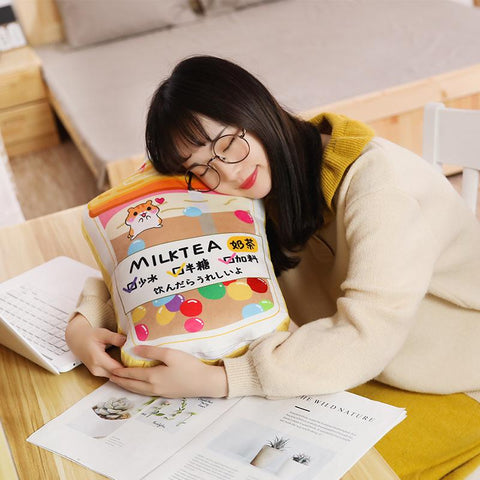 These fifty cm long pillows are perfect to have a sweet and sound sleep at night. The kawaii Harajuku plush doll pillow can fill your room with a cute vibe. It can make your sleeping time cute and fun with its soft material.
The milk tea & Harajuku design is too adorable, and it will complement your room's theme. The pillow has soft fabric and PP cotton. It feels comfortable and quiet while sleeping.
The pillow comes in four different colors and beautiful designs. You can gift this pillow to a milk tea fan or a kawaii items collector.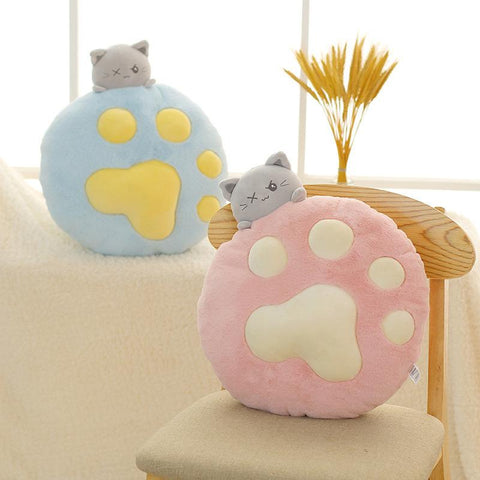 Do you love cats and want to buy a cute cat paw plush pillow for yourself? Then don't look anywhere else because we got you sorted with our cat paw plush pillow.
These cute Cat Paw Plush Pillow Dolls are suitable as gifts for yourself and your loved ones. Also, the pillow is for kawaii babes who like to collect cute fuzzy pillows.
The pillow has stretch fleece fabric and PP cotton filler, which is soft and comfortable to the touch. The excellent elastic of the plush pillow is not easy to deform.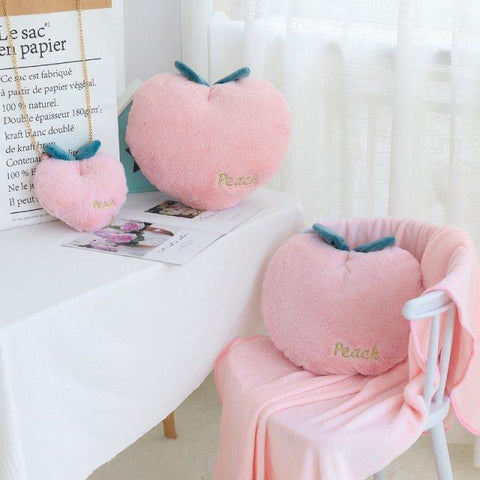 Peach is a favorite fruit of many people, and people also love collecting peach theme items. Our peach plush bag pillow is too cute and filled your room with love and magic.
This adorable peach plush bag and pillow are a must-have for all the kawaii cuties. If you love peachy and pink things, then this pillow is definitely for you.
The comfortable plush material provides two cute styles to meet your sleeping needs. You can also gift this cute pillow to your friends and family on special occasions.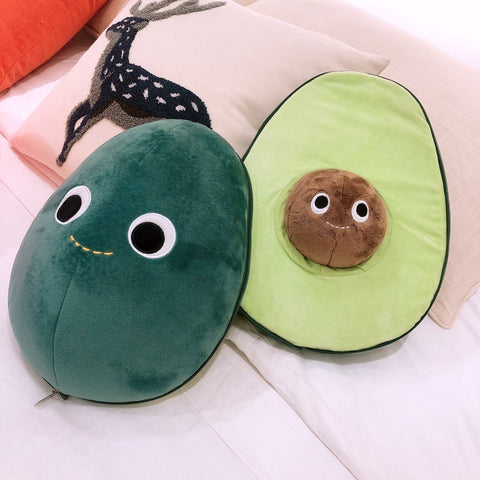 If you're looking for a cute decorative avocado plush pillow for your room, then this pillow is for you. You can use the kawaii avocado plush pillow to fill your space with cuteness and fun.
You can open the avocado's shell with a zipper to get a brown plush core full of fun. The pillow has a soft fabric inside with PP cotton. That's why it feels comfortable and soft to the touch.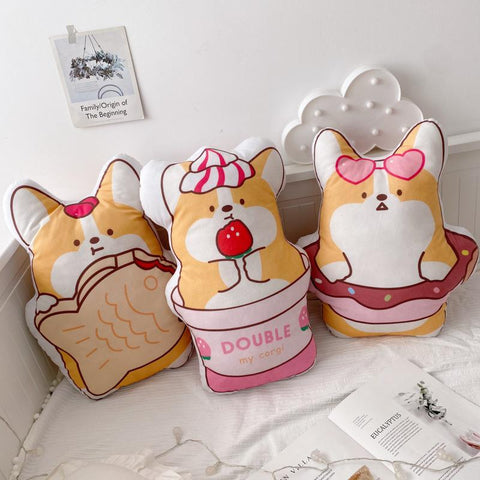 Are you looking for a gift for your sweetheart? Look nowhere else because our corgi sweetheart plush pillow is the best give option. You can use the kawaii corgi sweetheart pillow to give your room a cute makeover.
The pillow has soft plushy fabric, which is comfortable at hand feel and has soft touch. It is a perfect gift option for puppy lovers and Corgi followers.
It is also suitable for all the kawaii item collectors who love collecting soft plushy pillows.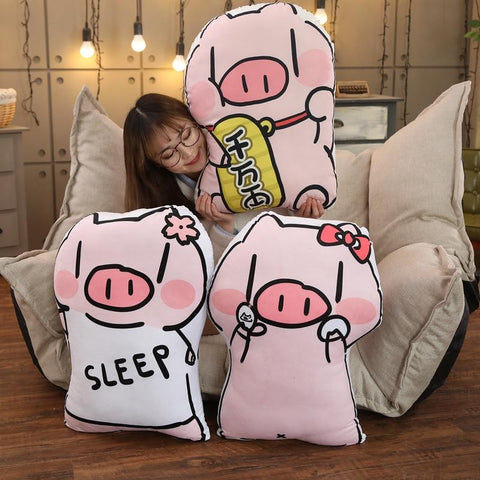 Take a ride to a fairyland while sleeping with our cute sleep piggy plush pillow. The kawaii sleep piggy plush pillow can be your sleeping companion at night time.
It can fill your room with a cute vibe to make your leisure time fun and enjoyable. The soft fabric and PP cotton of the pillow feel comfortable and soft to touch.
It can be a perfect gift for all the piggy lovers who love collecting piggy theme items. It is also suitable for kawaii item collectors and kids.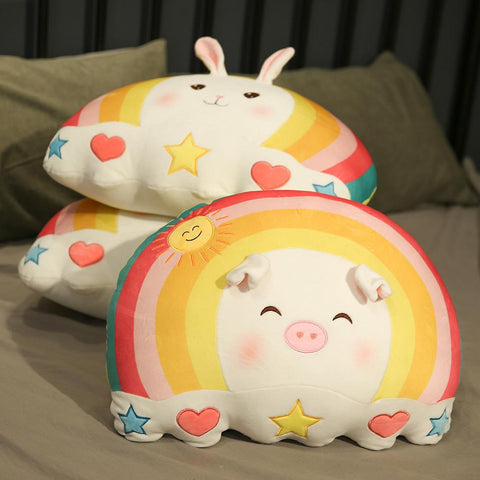 Our rainbow animal plush pillow is perfect for you if you have a rainbow-themed room. The pillow set comes with four different designs, including piggy, rabbit, and a unicorn.
The rainbow animal plush pillow is a perfect gift for your loved ones who love rainbow themed things. It has soft fabric and PP cotton, which feels comfortable while sleeping at night time.
The cute rainbow animal pillow is suitable for all the kawaii collectors.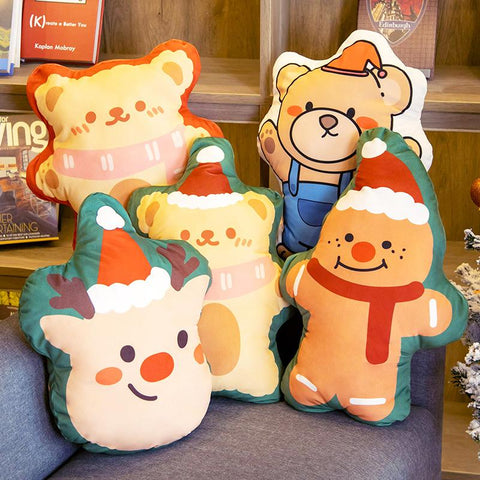 We know that it's not the Christmas season, but you don't need a reason to buy a pillow for yourself. The pillow comes with a wide range of cute designs, including biscuit bear and Santa Claus.
You can use the kawaii Christmas plush pillow as Christmas and New Year gifts. It is suitable to give your room some cute vibes. The Small animal shapes with Christmas design has soft fabric and cotton.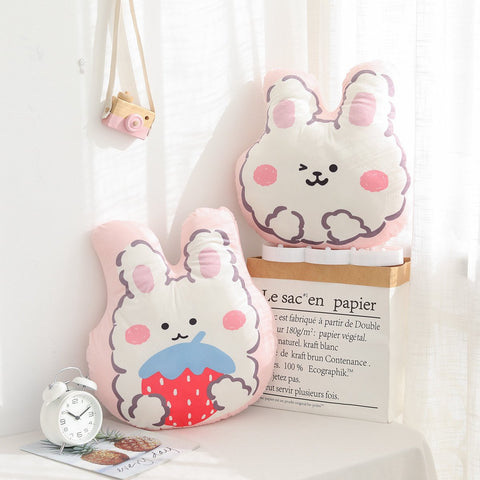 This pillow is for all the strawberry bunny lovers because it has a cute design. A bunny shape of the pillow with a cute expression will give your room a cute vibe.
The soft fabrics and down cotton feels comfortable and soft to touch. It can be used as a gift for bunny lovers, and it is also suitable for kawaii collectors.
Conclusion
Comfortable pillows are essential for a night of better sleep at night. Our cute range of kawaii pillows are affordable and will be your sleeping companion for a long time.