Acrylic Ruler is a significant part of our stationery box, and we never considered our geometry box complete without it. They have grid strips on them for accurate measurements. We do need to draw sketches on our notebooks; we use them in drawing assignments. It is beneficial in doing mathematics problems where we use it for taking accurate measurements. Hence, kids are always looking for cool-looking acrylic rulers to add to their favorite stationery boxes. There are other types like wooden or plastic rulers, but Acrylic rulers are always high in demand. Now cute Acrylic rulers are available with creative designs that add to their worth. Acrylic rulers are durable and light-weighted. Their optical clarity is so good that we quickly see through the paper.
Kawaii Acrylic Ruler
We have cute acrylic rulers available in our stores. They are made of premium acrylic quality which is highly transparent, have proper scaling, beautiful creative designs, temperature resistance, weatherproof, stiff, and long-running kawaii rulers. The prices we offer are highly reasonable. Kids are gushing over these cute rulers. They are ink-proof, so the optical clarity won't be bothered no matter how long you have been using them.
Have a look at our complete Kawaii Rulers range to have the best one for yourself: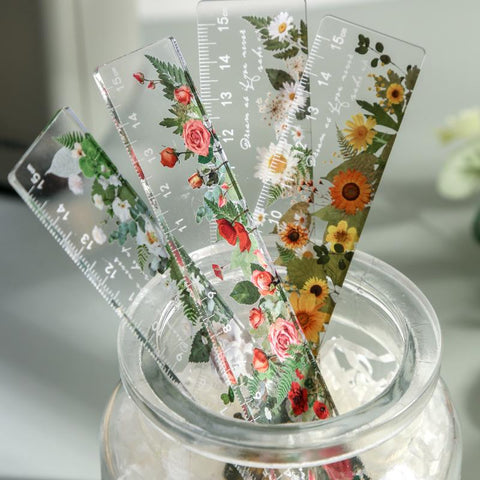 These Cute acrylic rulers have enticing floral prints in them. These prints vary from red rose, daisy, yellow flower, and white rose. You can have any of them. The dimensions of this ruler are 160*30mm. They have high optimal transparency. The floral prints don't indulge in strip scaling or kawaii rulers. They are heat resistant so that the floral details wouldn't get faint. The price for these cute scales is highly affordable to add to your favorite pencil case with your favorite color.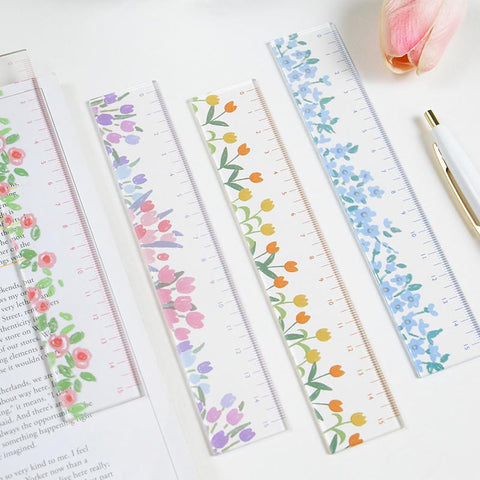 These Kawaii rulers have tiny sequenced plants print on them. Just like these little flowers with soft colors look enticing in the garden, they look on these cute rules. The kawaii minimal plants are printed on another side, so they don't disturb the readability of strip measurements. They are weather-resistant and highly transparent, with a scale size of 160*30mm. Choose out of different styles and colors available for these Terrace Garden series at minimal prices.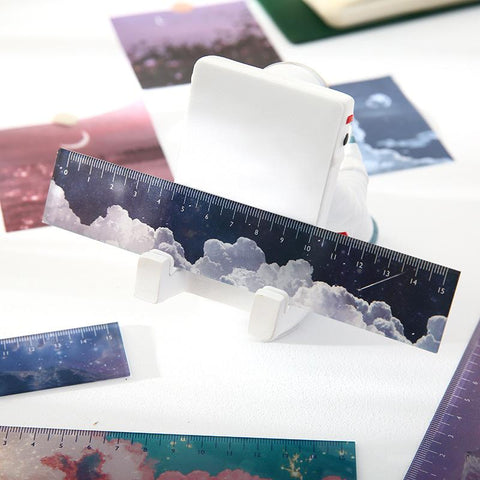 These are the most enticing rulers you might have ever seen. People are gushing over its appealing details where they have portrayed night and sky sceneries with beautiful clouds adding to its charm. You would be lost in its beauty whenever you see these magical scales. The several styles and colors are available in inexpensive ranges.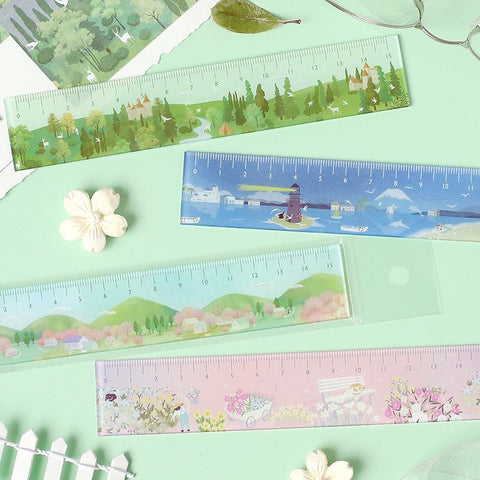 This acrylic ruler has soft base colors with a minute designing that portrays different aspects of the countryside lifestyle. The four styles available have the Ocean, Senborg, field, and flowers printed on them. They are easy to read and have a length of 160*30mm, which is standard.
Conclusion
These kawaii rulers have various styles and colors, so you are likely to find your favorite cute acrylic ruler here. They are made of premium quality, water-resistant, long-lasting, and affordable. So visit the website and find your favorite one here.